by Bree-Anna Green
As we all know, items in the FIMS Graduate Library usually do not circulate but are available for use in the library to read, copy or scan. Other items in the collection are available for loan for our graduate community, such as our board games, comics and graphic novels, children's materials, Indigenous authors, and DVDs.
Recently, the FIMS Graduate Library started working on a new project titled the "Borrow-Me Book Project" – for this project, we were fortunate enough to receive second (or third) copies of some of the most popular books in our collection, and the result is the introduction of our new "Borrow-Me Book Collection".
This new collection will be found intermingled with books from our core collection. In order to make it easier for students to find the items they are looking for, the "Borrow-Me" version of certain books will be placed right beside the original copy from our main collection. To distinguish books in the "Borrow-Me Book Collection", we have added the words "Borrow-Me" below the book's call number highlighted in yellow. Additionally, we have added a sticker on the front of the "Borrow-Me" books to further distinguish books in the "Borrow-Me Book Collection".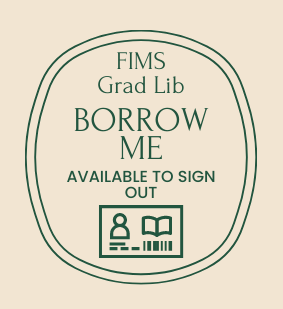 To sign out a Borrow-Me book, simply bring the book to the service desk and we will sign it out for you. We hope that students will get some good use out of the new collection – let us know what you think!